FORGET
RELIGION

… FIND

REVIVAL!
JOIN US FOR SERVICE EVERY SATURDAY @ 6 PM
(Eastside Church Location)
WHAT IF EVERY SERVICE WAS AN OUTREACH?
WHAT IF EVERY WEEKEND WAS A MISSIONS TRIP?
WHAT IF EVERY SUNDAY WAS A DAY OF REST AND GENUINE DISCIPLESHIP?
SATURDAYS ARE TO REVIVE THE CHURCH.


SUNDAYS TO RECOVER THE TABLE
SATURDAYS ARE ABOUT REVIVAL.


SUNDAYS ARE ABOUT RESTORATION
SATURDAYS ARE ABOUT THE CITY.


SUNDAYS ARE ABOUT THE FAMILY
Join us every Saturday at The Encounter Charlotte as we grow in our revelation of the Word!
Encounter Kids is for ages 0- second grade.
The Encounter Charlotte is thrilled to offer an enriching and enjoyable experience for kids every Saturday. Our goal is to create a space where children can explore, learn, and grow in their understanding of God in a fun and engaging environment.
Your children will have the opportunity to embark on a fascinating journey of discovery. They will learn about their unique talents and gifts, understanding that they have been wonderfully created by God for a special purpose.
Our dedicated team has prepared a dynamic program filled with memorable Bible-learning activities, catchy songs, teamwork-building games, delicious treats, exciting Bible adventures, and all sorts of fun activities. Your children will have a blast while immersing themselves in the stories and teachings of God and experiencing His love firsthand.
We invite you to bring your children to Encounter Charlotte every Saturday and let them experience a fun-filled journey of faith. Our dedicated team is excited to welcome them and provide a nurturing environment for their spiritual growth. Join us this Saturday for an unforgettable time of learning, laughter, and connection. We can't wait to see you and your children at The Encounter Charlotte!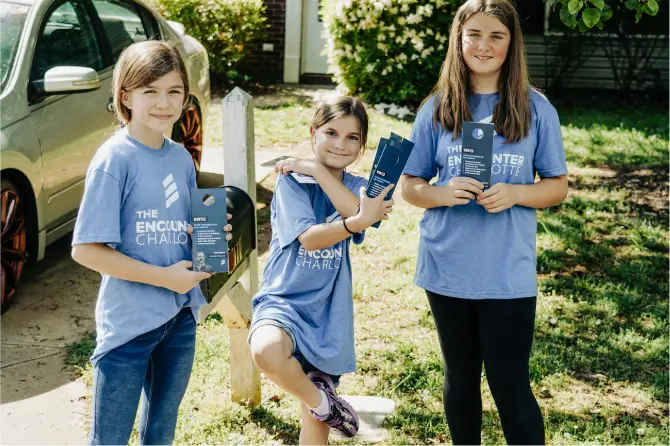 THE VISION

OF THE ENCOUNTER CHARLOTTE IS TO CULTIVATE REVIVAL BY TRAINING BELIEVERS FOR END TIME MINISTRY THROUGH ROOTED DISCIPLESHIP AND RADICAL EVANGELISM.
We value the Word of God and its prophetic declaration.
We value the 5-fold Ministry and the Body of Christ functioning in Unity.
We value the Gifts of the Spirit and flow in them frequently.
We value militant worship that transforms atmospheres.
We value real relationships and families walking in the Blessing of God.
We value the importance of understanding and teaching Bible Prophecy.
We value the Great Commission and equipping saints to fulfill it.
ALAN DIDIO
BISHOP
After experiencing a radical spitirual encounter at the age of sventeen, Alan Didio was born again. This experience instantly transformed him from a dogmatic atheist to a passionate follower of Jesus. Taught in a World-based chuch, he learned early on how to stand in faith. Not long after giving his life to Christ, Bishop Alan went off to Bible college and continued serving with a national ministry for twelve years. In fact, he even worked on staff for nearly seven years. During that time, he gained experience in every possible area of ministry ranging from running an international prayer center to traveling across the country spreading the Gospel.
Since then, he's founded Encounter Ministries in his hometown and taken the Gospel to nations such as Pakistan, China, Israel, Haiti and Guatemala. He also hosts the Encounter Underground Podcast and Encounter Today on Youtube which reaches tend of thousands of people around the world with the Gospel of Jesus Christ.
In 2022 Bishop Alan was ordained a Bishop and Overseer in City Harvest Network.
Bishop Alan has a wife and two children and considers family to be the most important ministry any beliver is called to.
ALAN DIDIO
BISHOP
Do You Need a Church Family?
Join our family by taking our Online Membership Class that walks you through what it means to be a member of Encounter Ministries. We will cover who we are, what we believe, and how that applies to you as a believer. We are excited for you to partner with us!
STAY CONNECTED WITH

THE ENCOUNTER CHARLOTTE
Be sure to follow our Youtube, Facebook, and Instagram for current services, events, and information.
Receive news and updates about The Encounter charlotte right to your inbox
If You Believe there needs to be a move of God in Charlotte and desire to partner with us, we invite you to sow into revival.
Your gift goes towards procuring a location, outreach efforts into the highways and byways and ministering to the nations.
Select "The Encounter Charlotte" from the fund drop-down.
GOD WANTS TO MAKE YOU A HISTORY MAKER.
DISCOVER THE PATH TO ENCOUNTER CHARLOTTE